Book Club Discussion - Misbehaving: The Making of Behavioral Economics
Thursday, 12:00 pm - 1:30 pm
Location:
Biltmore Court
CFALA Member Center
520 S Grand Ave. Suite 655
Los Angeles, CA 90071
Speaker:
Time:
12:00PM - 12:30PM: Lunch
12:30PM - 1:30PM: Book Discussion
Dress:
Business Casual

Add to Calendar

09/27/2018 12:00 PM

09/27/2018 1:30 PM

America/Los_Angeles

Book Club Discussion - Misbehaving: The Making of Behavioral Economics

Misbehaving: The Making of Behavioral Economic by Richard Thaler

Biltmore Court CFALA Member Center 520 S Grand Ave. Suite 655 Los Angeles, CA 90071

CFALA

info@cfala.org

false

MM/DD/YYYY
A Book Club Sponsored Event
Join us for lunch catered by Mendocino Farms and a discussion of the book "Misbehaving: The Making of Behavioral Economics"
Misbehaving: The Making of Behavioral Economics
" by author Richard Thaler, Ph.D.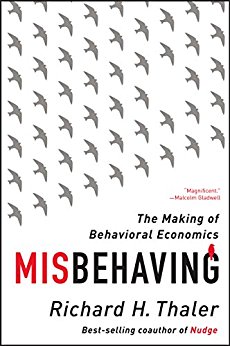 Richard Thaler, Ph.D. is a Nobel laureate and pioneer of Behavioral Economics. His writings include the 2008 New York Times best seller, Nudge, which was adopted by the Cameron administration in the U.K. to help guide policy. He is well known for his cameo in The Big Short in which he explained CDS and the "hot hand fallacy".

After decades of contrarian and often courageous research, Thaler along with his fellow behaviorists Robert Shiller, Amos Tversky and Daniel Kahneman (author of best seller, Thinking, Fast and Slow) turned traditional economics on its ear and with it the efficient market hypothesis. He demonstrated that we all succumb to biases and irrational behavior. In other words we misbehave. He and his colleagues illuminated the endowment effect, the sunk cost fallacy, prospect theory and loss aversion.

The Nobel Committee recognized that he did not simply argue that humans are irrational, but he also showed that they "misbehave" consistently, so their behavior can still be anticipated and modeled.

In addition to being laced with antic stories of Thaler's spirited battles with the bastions of traditional economic thinking, Misbehaving sets forth many entertaining examples we can apply in real life.

In this book club review, we will focus on Thaler's work on Behavioral Finance, an academic cousin, which delves into investor misbehaving including asset mispricing, under/ over reaction to information, herding, mental accounting, confirmation bias, framing and overconfidence.

Fuller & Thaler Asset Management in which he is a founding principal seeks to capitalize on this misbehavior. Our bottom line -- how does Thaler's work help us better understand clients and the markets? When Thaler was awarded the Nobel, he was asked how he would spend the $1.1 million prize. Professor Thaler replied, "This is quite a funny question." He added, "I will try to spend it as irrationally as possible."
Registration Fees
$10 | $15 (Non-Member)
Registration is Closed. Walk-Ins Welcome.
Payment Information


We accept the following:


If you prefer to pay by check please email info@cfala.org and request to pay by check. Your registration will be completed manually and you will receive an email confirmation.
Mail check to:
CFA Society of Los Angeles, 520 S. Grand Ave, Suite 655, Los Angeles CA 90071.
*Credit card payments will only be accepted through the secure online registration, and not by phone or email.
Cancellations
Cancellations must be received in writing by 9:00 am the day prior to the event to receive a refund. No phone cancellations are accepted. Please fax to the CFALA office at (213) 613-1233 or e-mail info@cfala.org. Member "no-shows" will be billed the difference between the member fee and the non-member fee for the event which is posted on the CFALA website.
Chairs:
Don Brown, CFA
Geoff Wainwright, CFA
| | |
| --- | --- |
| | As a participant in the CFA Institute Approved-Provider Program, the CFA Society of Los Angeles has determined that this program qualifies for 1 credit hours. If you are a CFA Institute member, CE credit for your participation in this program will be automatically recorded in your CE Diary. |