Become a Superforecaster: CFA Society Los Angeles 2017 Finance & Economics Challenge
Thursday, 5:30 pm - 7:30 pm
Location:
Biltmore Court
CFALA Member Center
520 S Grand Ave. Suite 655
Los Angeles, CA 90071
Speakers:
TBA
Time:
5:30PM - 6:30PM: Presentation
6:30PM - 7:30PM: Networking/Wine and Cheese
Dress:
Business Casual

Add to Calendar

02/16/2017 5:30 PM

02/16/2017 7:30 pM

America/Los_Angeles

Become a SUPERFORECASTER: The CFA Society Los Angeles 2017 Finance & Economics Challenge

Become a SUPERFORECASTER: The CFA Society Los Angeles 2017 Finance & Economics Challenge

Biltmore Court 520 S Grand Ave. Suite 655 Los Angeles, CA 90071

CFALA

info@cfala.org

false

MM/DD/YYYY
The
CFA Society Los Angeles 2017 Finance & Economic Challenge
is a battery of forecastable questions that will debut on Feb. 16 on the Superforecasting website, the Good Judgment Open (
www.gjopen.com
). It will be targeted to members and friends of CFALA, but will be open to the public, including CFA charterholders worldwide.
Attendees will gain an edge in the 2017 CFALA Superforcasting competition by receiving the
Ten Commandments for Aspiring Superforecasters
, which randomized trials show increases accuracy by roughly 10%, a very substantial increase according to experts on the subject. Attendees will also receive helpful hints for site navigation (
www.gjopen.com
), learn about the Good Judgment Open scoring algorithm, and get detailed information about the benefits that participants can expect to gain by forecasting financial and economic events. Attendees will also get the opportunity to suggest any "burning questions" to enter into the tournament.
The first 10 registrants will receive a free copy of the book Superforecasting, which revolutionized how we think about the future. Limited to 60 attendees.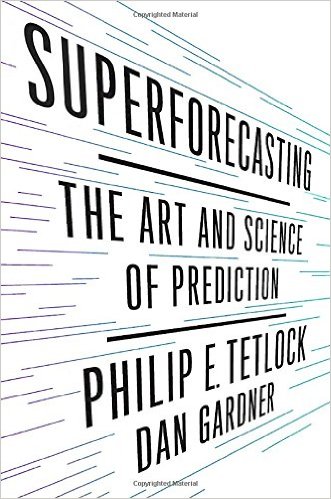 The book Superforecasting: The Art and Science of Prediction by Wharton professor Philip Tetlock was named an Economist magazine's Book of the Year for 2015. Of Bloomberg's 50 contributors on finance and economics, it was the second most frequently recommended book of 2015.
How to participate: Go to www.gjopen.com NOW!
Create a log in with the letters CFA in your username. Start forecasting immediately. CFALA will send an email reminder when our questions launch.
Why participate? Because your work and career will improve.
Superforecasters performed about 30% better than the average for intelligence community analysts with access to intercepts and other classified data.
There are steps anyone can learn to becoming a much better forecaster.
Accurately forecasting economic and financial events and regimes is critical in order to perform well.
No matter what aspect of finance and investing you work in, becoming a better forecaster will help you to be a better and more successful financial professional.
Registration Fees
Free (Member) | $15 (Non-Members)
Payment Information
We accept the following:

If you prefer to pay by check please register online and select "purchase order" as your payment option and enter your last name as the purchase order number.
Mail check to:
CFA Society of Los Angeles, 520 S. Grand Ave, Suite 655, Los Angeles CA 90071.
*Credit card payments will only be accepted through the secure online registration, and not by phone or email.
Cancellations
Cancellations must be received in writing by 9:00 am the day prior to the event to receive a refund. No phone cancellations are accepted. Please fax to the CFALA office at (213) 613-1233 or e-mail info@cfala.org. Member "no-shows" will be billed the difference between the member fee and the non-member fee for the event which is posted on the CFALA website.
Chair:
Don Brown, CFA and Thomas Mahoney, CFA