10-21-2014 An Evening with Michael Lewis
Author of the No 1 New York Times Best-seller Flash Boys - This event is Sold Out for specail CFALA discount tickets
Tuesday, October 21st, 2014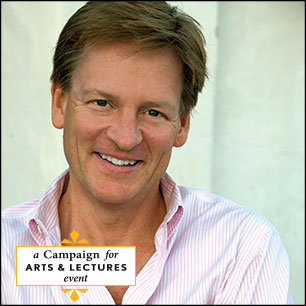 The CFALA Santa Barbara Group has arranged for group sitting for Michael Lewis lecture at UCSB. We will be offering Section 1 tickets to our members for only $29 (non-members at $39). We only have space for 20 people and expect the tickets will go fast. Please register using the link below. We'll be accepting registrations until September 12. Email/call Ale or Carol with any questions or comments.
"When it comes to narrative skill, a reporter's curiosity and an uncanny instinct for the pulse of the zeitgeist, Lewis is a triple threat." The New York Times
Best-selling author of The Big Short, Boomerang and Liar's Poker – fascinating reports on Wall Street and the financial crisis – Michael Lewis is perhaps the best known, most influential financial journalist of our time. His new book, Flash Boys: A Wall Street Revolt, has been making waves in the news and on Wall Street with its assertion that the U.S. stock market is rigged for the benefit of insiders. Lewis is also the author of The Blind Side and Moneyball, masterful tales of human instinct, determination and compassion. Get your tickets early – this talk is sure to sell out!
Registration Links:
Members: $29
Non-members: $39
When: Tuesday, Oct 21 at 8pm
Where: The Granada Theatre
1214 State St
Santa Barbara, CA 93101
Michael Lewis pre-event Dinner
CFALA Santa Barbara Group invites you to join us for dinner before the event at the Granada. We'll meet at Petit Valentien (www.petitvalentine.com) at 5:00pm.
When: October 21, 2014 at 5:00
Where: Petit Valentien
1114 State Street in La Arcada
Santa Barbara, CA 93101
Registration Links:
Payment Information:
Methods of payment accepted: Visa/Mastercard, American Express and Discover. If you prefer to pay by check please register online and select "purchase order" as your payment option and enter your last name as the purchase order number. Mail check to: CFA Society of Los Angeles, 520 S. Grand Ave, Suite 370, Los Angeles CA 90071.
*Credit card payments will only be accepted through the secure online registration, and not by phone or email.