Trend Following: An Overview of Methodology and Return Characteristics
Tuesday, July 16th, 2013
Speakers:
Alex Greyserman, PhD
Chief Investment Officer – ISAM Systematic
and
Jack Weiner
Head of Sales, Americas – ISAM Systematic
Chair: Erik Einertson, CFA

An Alternative Investments Group Event
The presentation entitled "Trend Following: An Overview of Methodology and Return Characteristics" or as we refer to it the Trend Following Teach-In, is designed to further educate and demystify the strategy for several of our largest institutional clients. It offers a general overview of the strategy and includes explanations around the source of risk premia that delivers the strategy's returns, expectations of risk, methods of benchmarking, and strategy for risk allocation within a broader portfolio. The analysis draws upon detailed research papers on the nature of trend following, which are produced by the ISAM Research team as well as analysis from academia. The aim is to provide clarity and deep insight for both current and prospective investors into what can be described as an uncorrelated asset class with strong Crisis Alpha characteristics.

Alex Greyserman is Chairman of the ISAM Systematic Investment Committee and a member of the ISAM Management Committee. He has worked with Larry Hite since 1989. He served as Research Director at Mint Investment Management Co. ("Mint") for over 10 years; responsible for research and development of trading strategies, management of Mint's assets, and overall portfolio risk management. In 2001, Mr. Greyserman and Mr. Hite formed Hite Capital Management, a family office operation in New York, where Mr. Greyserman served as CIO until 2010, when Hite Capital Management merged with ISAM. At that time Mr. Greyserman became Chief Investment Officer of ISAM Systematic. His responsibilities include portfolio construction and implementation of investment strategy.
Mr. Greyserman holds an MS in Electrical Engineering from Columbia University, and an MBA and a Ph.D. in Statistics from Rutgers University. His dissertation focused on empirical data analysis and application of Bayesian statistics to portfolio selection. He also currently serves as Visiting Professor in the Graduate Program in Mathematical Finance at Columbia University, teaching various courses and seminars in the field of Quantitative Investment Management.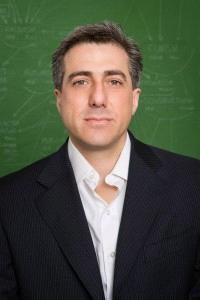 Jack Weiner joins ISAM as Head of Sales, Americas. Previously, Jack was a Managing Director and Global Head of Business Development for the QFS Asset Management. Before joining QFS, Mr. Weiner was a Managing Director with Treesdale Partners, LLC, where he led the firm's business development efforts in non-US markets. Prior to joining Treesdale, he served as a consultant for New American Financial Group, a boutique wealth management firm.
Mr. Weiner had previously spent 10 years as a fixed-income arbitrage trader, specializing in relative value relationships. He worked in this capacity for a number of multinational banks, including Deutsche Bank, Dresdner Bank and Daiwa Securities. While trading for these firms, Mr. Weiner held management positions in New York, London, Tokyo, Frankfurt and Hong Kong.
He earned his B.A. in economics and political science at Duke University, graduating cum laude, and received an M.B.A. in finance from Columbia University, with highest honors.

As a participant in the CFA Institute Approved-Provider Program, the
CFA Society of Los Angeles has determined that this program qualifies
for 1 credit hours. If you are a CFA Institute member, CE credit for
your participation in this program will be automatically recorded in your CE Diary.
Registration Links:
CFALA Members: $20.00 (place cursor on amount for link)
Student Discount: $30.00 (Valid Student ID required at the event)
Non-members: $50.00 (place cursor on amount for link)
Time: 12:00 PM-1:30 PM, Lunch
Location: Omni Los Angeles
251 South Olive Street
Los Angeles, CA 90071
For directions call hotel: (213) 617-3300
Event parking at the Omni $12.00
Dress Code: Business Casual
Payment Information:
Methods of payment accepted: Visa/Mastercard, American Express and Discover. If you prefer to pay by check please register online and select "purchase order" as your payment option and enter your last name as the purchase order number. Mail check to: CFA Society of Los Angeles, 520 S. Grand Ave, Suite 370, Los Angeles CA 90071.
*Credit card payments will only be accepted through the secure online registration, and not by phone or email.