Virtual Book Club: 'Competing in the Age of AI: Strategy and Leadership When Algorithms and Networks Run the World'
Tuesday, 12:00 PM - 1:00 PM
Location:
Zoom Meeting
Time:
12:00PM - 1:00PM

Add to Calendar

2/23/2021 12:00 PM

2/23/2021 1:00 PM

America/Los_Angeles

Virtual Book Club: 'Competing in the Age of AI: Strategy and Leadership When Algorithms and Networks Run the World

Virtual Book Club: 'Competing in the Age of AI: Strategy and Leadership When Algorithms and Networks Run the World

Zoom Meeting

CFALA

info@cfala.org

false

MM/DD/YYYY

Join us for a (virtual) book club discussion! Sign up today because attendance is limited to encourage discussion and networking.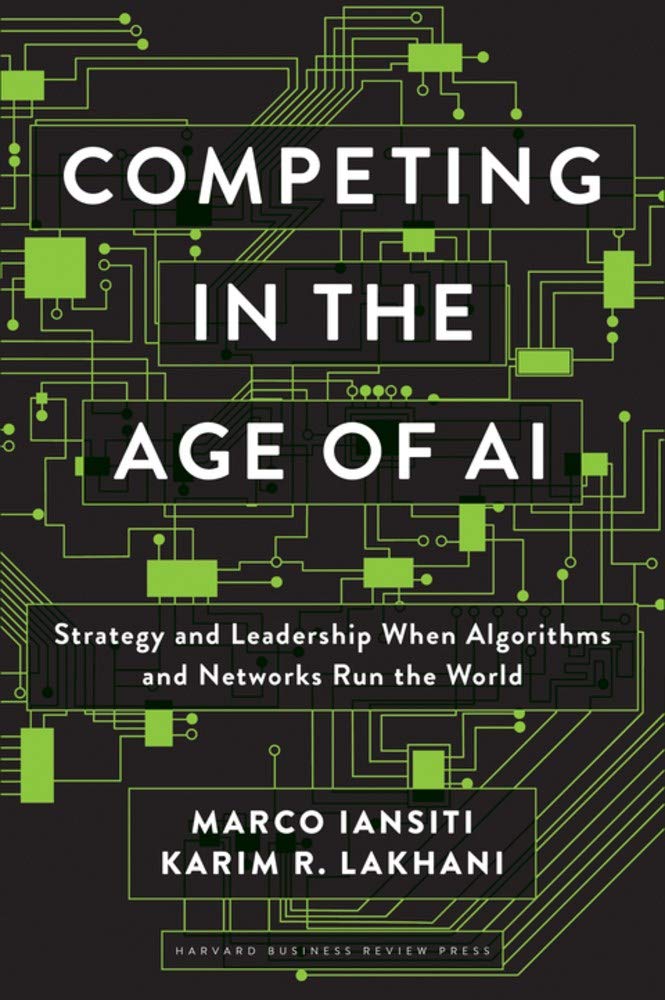 Competing in the Age of Al: Strategy and Leadership When Algorithms and Networks Run the World, by Marco Iansiti and Karim R. Lakhani.

As Iansiti and Lakhani write, "This book defines the age of Al by the emergence of a different kind of organization, structured for a business environment shaped by digital networks, analytics and artificial intelligence." In their new book, these two Harvard professors share deep insights gained after researching hundreds of firms and consulting for many of America's most prestigious companies.

Chalked full examples, the book shows how firms are becoming data centric to leverage network effects and redefine how they create and deliver value. This transformation and "rethinking of the firm" extends well beyond tech firms. From Airbnb to Ant Financial, Microsoft to Amazon, Fidelity to Peloton, research shows how Al-driven processes are far more scalable than traditional processes, allow huge scope increase, enabling companies to straddle industry boundaries, and create powerful learning opportunities. Al removes traditional constraints on scale, scope, and learning that have hindered business growth for hundreds of years.

The book also includes a new preface that examines how the Covid crisis compelled organizations such as Mass General, Verizon, and IKEA to transform themselves with remarkable speed.

In our discussion, we will examine how we as investment professionals should address these rapid changes in the business environment. We will look at the book's case studies that highlight how "collisions" between Al-driven versus traditional firms are reshaping competition and forcing companies to rearchitect, and review your examples as well. We will discuss taking an "Al Inventory" as we evaluate and analyze companies. We will also consider macro challenges the Al revolution poses to the labor force and the U.S. and global economies.
Registration Fees
Free (Members) | $5 (Non-Members)
Payment Information
We accept the following:

If you prefer to pay by check please email info@cfala.org and request to pay by check. Your registration will be completed manually and you will receive an email confirmation.

Mail Check To:
CFA Society of Los Angeles
13400 Riverside Drive, Ste. 215
Sherman Oaks, CA 91423
*Credit card payments will only be accepted through the secure online registration, and not by phone or email.
Cancellations
Cancellations must be received in writing by 9:00 am the day prior to the event to receive a refund. No phone cancellations are accepted. Please e-mail
info@cfala.org
.
Event Chairs:
Hannah Norombaba
Geoff Wainwright, CFA
Community Chair:
Donald Brown, CFA