U.S. Congressman Ed Royce
Tuesday, 12:00 pm - 2:00 pm
Location:
Millennium Biltmore Hotel Los Angeles
Room - Grecian/Athenian
506 South Grand Avenue
Los Angeles, CA 90071-2607
Speakers:
U.S. Representative Ed Royce
Time:
12:00 pm - 12:30 pm: Networking
12:30 pm - 1:00 pm: Lunch
1:00 pm - 2:00 pm: Discussion
Dress:
Business Casual

Add to Calendar

05/03/2016 12:00 PM

05/03/2016 2:00 pM

America/Los_Angeles

U.S. Congressman Ed Royce

Millennium Biltmore Hotel Los Angeles 506 South Grand Avenue Los Angeles, CA 90071-2607

CFALA

info@cfala.org

false

MM/DD/YYYY
An Advocacy and Ethics Committee Sponsored Event
As investment professionals we spend most of our time focused on research, analyzing data and providing valuable advice to our clients.
We don't spend much time worrying about financial legislation. Perhaps this is because we don't fully understand it or we feel like we have no influence over it. But this doesn't need to be the case.
With the help of the CFA Institute we were able to secure an hour with Congressman Ed Royce. Rep. Royce sits on the powerful House Financial Services Committee which crafts financial legislation. This legislation affects us all as industry professionals and as consumers of financial services.
We hope you will join us for a moderated discussion over lunch with the Congressman. Bring your questions and help us try to shape public policy and promote industry practices that put investors' interests first.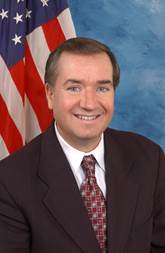 U.S. Representative Ed Royce | Ed Royce
serves California's 39th Congressional District, which encompasses parts of Orange, Los Angeles, and San Bernardino Counties.
Royce's priorities in Congress include: addressing our national debt, protecting our homeland, eliminating pork-barrel spending, and strengthening Social Security and Medicare.
As a senior member of the House Financial Services Committee, Royce sits on two Subcommittees: Capital Markets and Government Sponsored Enterprises and Housing and Insurance. Royce has served on the conference committees for some of the most significant legislation in the financial services arena and voted against bailing out Wall Street with taxpayer money in the wake of the 2008 financial crisis. Royce is a leading proponent of comprehensive housing finance reform to reduce the government's presence in housing markets and was the author of legislation that capped CEO compensation at Fannie Mae and Freddie Mac.
Royce has consistently earned honors and awards from the National Taxpayers Union, Citizens Against Government Waste, National Federation of Independent Businesses, Watchdogs of the Treasury, Americans for Tax Reform, U.S. Chamber of Commerce, United Seniors Association, 60 Plus, American Share Holders Association, Citizens for a Sound Economy and the Small Business Survival Committee. The Washington Post recently named him one of the Most Effective Lawmakers in the U.S. Congress.
A California native, Royce is a graduate of the California State University, Fullerton, School of Business Administration. Prior to entering public service, his professional background includes experience as a small business owner, a controller, a capital projects manager, and a corporate tax manager for a Southern California company. Royce and his wife Marie have been married for 29 years and are longtime residents of Fullerton.
Registration Fees
$20 (Members) | $30 (Non-Member Students) | $50 (Non-Member)
Payment Information
We accept the following:

If you prefer to pay by check please register online and select "purchase order" as your payment option and enter your last name as the purchase order number.
Mail check to:
CFA Society of Los Angeles, 520 S. Grand Ave, Suite 655, Los Angeles CA 90071.
*Credit card payments will only be accepted through the secure online registration, and not by phone or email.
Cancellations
Cancellations must be received in writing by 9:00 am the day prior to the event. No phone cancellations are accepted. Please fax to the CFALA office at (213) 613-1233 or e-mail info@cfala.org. Member "no-shows" will be billed the non-member fee ($50) for the event which is posted on the CFALA website.
Chair:
Dan Pomerantz, CFA
| | |
| --- | --- |
| | As a participant in the CFA Institute Approved-Provider Program, the CFA Society of Los Angeles has determined that this program qualifies for 1 credit hours. If you are a CFA Institute member, CE credit for your participation in this program will be automatically recorded in your CE Diary. |