Thematic Investing: Private Equity – Trends and Themes
Wednesday, 5:30 pm - 7:30 pm
Location:
Biltmore Court
CFALA Member Center
520 S Grand Ave. Suite 655
Los Angeles, CA 90071
Speaker:
Vincent Catalano, CFA
Kunal Shah
Time:
5:30 pm - 6:00 pm: Networking
6:00 pm - 6:30 pm: Dinner
6:30 pm - 7:30 pm: Presentation
Dress:
Business Casual

Add to Calendar

02/17/2016 5:30 PM

02/17/2016 7:30 pM

America/Los_Angeles

Thematic Investing: Private Equity – Trends and Themes

Earlier this year, the global consultancy firm, McKinsey & Co., published a report describing the strong growth in alternative investments: an asset class which includes hedge funds and private equity. While still dwarfed by the more traditional investment choices, such as pensions and mutual funds, alternative investments have produced almost double the rate of growth of assets under management over traditional investments over the 8 year period ending 2013. With just over $7 trillion in assets, the sector has become an even more formidable category than ever. Additionally, over the past several years several high profile institutional investors have moved an increasing amount of their assets into alternative investments seeking returns and reduction of risk not easily achievable in traditional investment categories. What explains this strong shift to this asset class? What are the trends and themes that investors should consider when viewing this investment sector? What are the implications for traditional investment vehicles and for the financial markets overall?

Biltmore Court 520 S Grand Ave. Suite 655 Los Angeles, CA 90071

CFALA

info@cfala.org

false

MM/DD/YYYY
Recording (Members-Only)
A Portfolio Management Group Sponsored Event
Dinner, salad, and dessert will be catered by
CPK
. Additionally, red and white wine will be offered.
Earlier this year, the global consultancy firm, McKinsey & Co., published a report describing the strong growth in alternative investments: an asset class which includes hedge funds and private equity. While still dwarfed by the more traditional investment choices, such as pensions and mutual funds, alternative investments have produced almost double the rate of growth of assets under management over traditional investments over the 8 year period ending 2013. With just over $7 trillion in assets, the sector has become an even more formidable category than ever. Additionally, over the past several years several high profile institutional investors have moved an increasing amount of their assets into alternative investments seeking returns and reduction of risk not easily achievable in traditional investment categories.
What explains this strong shift to this asset class? What are the trends and themes that investors should consider when viewing this investment sector? What are the implications for traditional investment vehicles and for the financial markets overall?

Vincent Catalano, CFA | Vincent Catalano
is Managing Member of the private equity firm, Adriatic Capital Partners. Vincent is also President and Global Investment Strategist with Blue Marble Research Advisory Services and author of "Sectors and Styles" (Wiley 2006). A leading investment strategist and asset manager, Vincent appears regularly in the media (Bloomberg TV & Radio, CNBC, Wall Street Journal, Financial Times, Reuters) and is a guest speaker at various major forums. Vincent is a past president of the New York Society of Security Analysts and chairs NYSSA's Global Thematic Committee. He is a Nonresident Senior Fellow at the Information Technology and Innovation Foundation.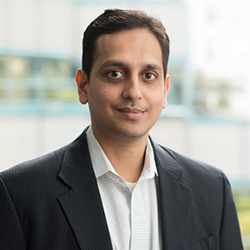 Kunal Shah | Kunal Shah
is a Senior Vice President of Fund Manager Due Diligence & Origination where he focuses on identifying and leading due diligence on private equity funds. Previously, Kunal was a Principal in the private markets group at Meketa Investment Group ("Meketa") where he was responsible for leading and managing private equity fund investments. Kunal joined Meketa in 2006 and invested over $1 billion on behalf of Meketa's discretionary and non-discretionary clients. He invested globally and covered buyouts, venture capital, private debt, natural resources, and infrastructure investments. He also developed and led Meketa's secondary funds purchase practice. Kunal served on various limited partners advisory boards. Prior to Meketa, Kunal was an analyst at The Vanguard Group and Hirtle, Callaghan & Co. Kunal received a BS degree in Business Administration with a concentration in Finance from Drexel University.
Registration Fees
$15 | $25 (Non-Member)
Payment Information
We accept the following:

If you prefer to pay by check please register online and select "purchase order" as your payment option and enter your last name as the purchase order number.
Mail check to:
CFA Society of Los Angeles, 520 S. Grand Ave, Suite 655, Los Angeles CA 90071.
*Credit card payments will only be accepted through the secure online registration, and not by phone or email.
Cancellations
Cancellations must be received in writing by 9:00 am the day prior to the event. No phone cancellations are accepted. Please fax to the CFALA office at (213) 613-1233 or e-mail info@cfala.org. Member "no-shows" will be billed the non-member fee ($25) for the event which is posted on the CFALA website.
Chair:
Charlotte Chamberlain, PhD
| | |
| --- | --- |
| | As a participant in the CFA Institute Approved-Provider Program, the CFA Society of Los Angeles has determined that this program qualifies for 1 credit hours. If you are a CFA Institute member, CE credit for your participation in this program will be automatically recorded in your CE Diary. |