Ethical Decision Making
Monday, March 18th, 2013
Speaker:
Michael G. McMillan, Ph.D., CPA, CFA
CFA Institute Director or Ethics and Professional Standards
Chair: Dan Pomerantz, CFA
This event is sponsored by the Advocacy and Ethics Committee
Several months ago the Advocacy and Ethics Committee of CFALA polled the membership base on their views toward ethics in the financial services industry. The results indicated both pessimism and optimism. As examples of the former, 53% of investment professionals think Wall Street cannot be trusted, 47% think the US capital markets lack real integrity, 62% think increasing regulation will not curb the actions of bad players. On the other hand 74% think local organizations such as CFALA can have an impact on restoring trust. Restoring trust begins with awareness and understanding. As such we are bringing in Dr. McMillan to make a presentation on Ethical Decision Making. We encourage your attendance at this event and solicit your help in advancing our ongoing advocacy efforts.
The CFA Institute's Code of Ethics and Standards of Professional Conduct is a key component of its mission to lead the global investment profession. It is also critical to maintaining capital market integrity and the public's trust in the financial market. This interactive presentation examines several investment scenarios based on real cases that challenge participants to consider the various courses of action to address the issues involved. Hand held electronic "response devices" are used to allow participants the opportunity to vote on the best course of action. Because the presentation is based on the CFA Code of Ethics and Standards of Professional CFA Charter holders and Institute members will earn 1.0 Continuing Education Credit per class room hour in the content area of Standards, Ethics, and Regulations (SER).
CFA Institute
Michael G. McMillan, Ph.D., CPA, CFA
Director, Ethics and Professional Standards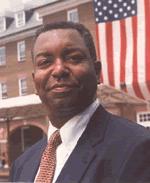 Dr. McMillan joined CFA Institute in October of 2008 after more than a decade as a professor of accounting and finance at Johns Hopkins University's Carey School of Business and George Washington University's School of Business. Prior to pursuing a career in academia, he was a securities analyst and portfolio manager at Bailard, Biehl, and Kaiser and Merus Capital Management in San Francisco, California.
As Director of Ethics and Professional Standards, Dr. McMillan is responsible for creating, sourcing, and developing educational content for CFA Institute members and investment professionals in the area of ethics and professional standards. Prior to joining the Institute, Dr. McMillan served in a variety of volunteer capacities at the CFA Institute. He was a member of the Council of Examiners for 10 years, and a grader for the CFA Level II and Level III exams for 12 years.
Dr. McMillan is the Treasurer and a member of the board of directors of Fort Dupont Ice Arena in Washington, DC. Prior to joining CFA Institute, he was a Vice President and Treasurer of the CFA Society of Washington, DC. In addition, he was a member of the Editorial Board of the Journal of Business Research.
Dr. McMillan has a PhD in accounting and finance from George Washington University, an MBA from Stanford University, and BA from the University Pennsylvania. He is a Chartered Financial Analyst (CFA), a Chartered Investment Counselor, and a Certified Public Accountant (CPA).

As a participant in the CFA Institute Approved-Provider Program, the
CFA Society of Los Angeles has determined that this program qualifies
for 1 credit hours. If you are a CFA Institute member, CE credit for
your participation in this program will be automatically recorded in your CE Diary.
Registration Links
CFALA Members: $20.00(place cursor on amount for link)
Student Discount: $30.00 (Valid Student ID with current year shown - required at the event)
Non-members: $60.00 (place cursor on amount for link)
Time: 12:00 pm - 1:30 pm, Lunch
Location: Intercontinental in Century City in the Glass Lounge
2151 Avenue of Stars
Los Angeles, California 90067
Dress Code: Business Casual
Payment Information:
Methods of payment accepted: Visa/Mastercard, American Express and Discover. If you prefer to pay by check please register online and select "purchase order" as your payment option and enter your last name as the purchase order number. Mail check to: CFA Society of Los Angeles, 520 S. Grand Ave, Suite 370, Los Angeles CA 90071.
*Credit card payments will only be accepted through the secure online registration, and not by phone or email.