05-13-2014 The Madoff Inside Each of Us
Tuesday, May 13, 2014
Speaker:
Professor Scott Wiltermuth
USC Marshall School of Business
Chairs: Dan Pomerantz, CFA & Glen Ferrand, CFA
This event is sponsored by the Advocacy & Ethics Committee
Few people will commit fraud on the scale committed by Bernie Madoff. Yet many of the same forces that contributed to Madoff's unethical decision-making may affect how each of us makes decisions. In this talk, Prof. Wiltermuth will discuss the situational factors that tempt us to behave in ways that others might consider unethical. Covering the latest research in behavioral ethics, he will pay particular attention to factors that may influence finance and investment professionals' likelihood to behave unethically. Specifically, he will address such questions as:
1. How does getting to know our clients increase the likelihood that we will behave dishonestly?
2. How could being well-connected to others in our professional fields increase the odds that we will behave in ways most people would consider to be unethical?
3. Why would forcing us to split the spoils of their unethical behavior make us more likely to behave unethically?
Throughout the talk, Prof. Wiltermuth will propose potential ways people can combat the temptations that arise from these socio-environmental factors. As such, he will discuss tactics designed to silence the Madoff inside each of us.
Speaker's Bio: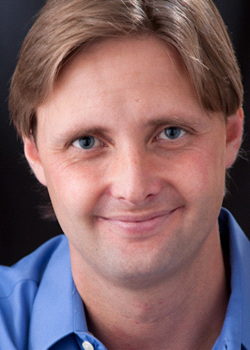 Professor Scott Wiltermuth researches how socio-environmental factors affect people's reactions to unethical behavior and their likelihood of behaving unethically themselves. He also researches how interpersonal dynamics, such as synchrony and dominance, affect people's willingness to cooperate with others. He has published papers in Journal of Personality and Social Psychology, Psychological Science, Academy of Management Journal, Organizational Behavior and Human Decision Processes, and numerous other academic journals. His work has been reported in many media outlets, including: The Economist, The New York Times, The Los Angeles Times, and The Washington Post. He holds degrees from Harvard, INSEAD, and Stanford. Prior to academia, he worked in the airline industry as a strategy consultant.
Education:
Ph.D., Organizational Behavior, Stanford University, 2009.
A.M., Psychology, Stanford University, 2007.
M.B.A., INSEAD, 2003.
A.B., Economics, Harvard College, 1996.

As a participant in the CFA Institute Approved-Provider Program, the
CFA Society of Los Angeles has determined that this program qualifies
for 1 credit hours. If you are a CFA Institute member, CE credit for
your participation in this program will be automatically recorded in your CE Diary.
Registration Links
CFALA Members: $20.00(place cursor on amount for link)
Student Discount: $30.00 (Valid Student ID with current year shown - required at the event)
Non-members: $60.00 (place cursor on amount for link)
Date: Tuesday, May 13th, 2014
Time: 12:00pm – 1:30pm, Lunch

Location: Intercontinental Hotel, Century City
2151 Avenue of Stars
Los Angeles, California 90067

Parking: Valet $12
Dress Code: Business Casual
Payment Information:
Methods of payment accepted: Visa/Mastercard, American Express and Discover. If you prefer to pay by check please register online and select "purchase order" as your payment option and enter your last name as the purchase order number. Mail check to: CFA Society of Los Angeles, 520 S. Grand Ave, Suite 370, Los Angeles CA 90071.
*Credit card payments will only be accepted through the secure online registration, and not by phone or email.