Investing with Intelligent ETFs: Strategies for Profiting from the New Breed of Securities


Thursday, May 27, 2010
12:00 pm – 1:30 pm
Speakers:
Max Isaacman
Registered Investment Advisor, manages the
East/West Securities institutional department, in San Francisco.
Carl Resnick
Security Global Investors
Chair: Adrianne Regrutto
Exchange Traded Funds have become the investment of choice for professionals and individual investors. We will outline new ETFs which are "intelligent." One reason for the launching of intelligent ETFs was to offer investors a chance to gain alpha and outperform indexes; another reason was to offer exposure in areas that are not correlated or less correlated to the stock market, such as currencies or natural resources. Graphics shown demonstrate that gaining alpha is important, especially in flat markets which we have been in for about 10 years. Graphs include: Dow-Jones historical trends, covering 110 years; an interpretation of these Dow-Jones historical trends; importance of sector diversification; performance of stocks vs. bonds by decades; a 46 year performance history of stocks vs. bonds; S&P performance under 3 scenarios. This presentation is valuable for professionals helping individuals in their portfolio performance and for individuals who want to know their investment choices in today's markets.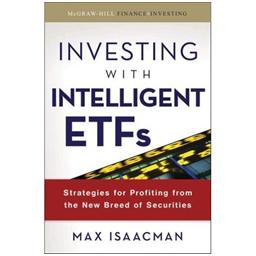 Max Isaacman, Registered Investment Advisor, manages the East/West Securities institutional department, in San Francisco. Among his positions over a 40-year career, he was a Merrill Lynch financial consultant, Cowen & Company branch manager and partner, and a Lehman Brothers vice-president. Isaacman wrote for the San Francisco Examiner, Delta Airlines SKY magazine, Yahoo! Finance, and other media sources. He appeared on CBS MarketWatch and other radio and television shows. Isaacman wrote the first book on ETFs for McGraw-Hill, and his most recent book, Investing with Intelligent ETFs, was recently published.
Carl Resnick: At Security Global Investors, as managing director, portfolio strategist for the firm's asset allocation and target beta fund line-up, Carl provides strategic guidance with respect to product management, new business development and product-line profitability within the institutional marketplace. In this role, Carl is responsible for developing, marketing and positioning the firm's asset allocation and target beta fund line up, as well as training key sales personnel on the use of the funds.
With more than 17 years of experience in the financial services industry, Carl is frequently called upon to provide industry expertise on the topics of asset allocation, ETF investment strategies and marketing and distribution strategy.
Prior to this role, Carl served as National Sales Manager of ETF and Institutional sales, where he was responsible for managing ETF distribution resources throughout the firm. Carl began his career as a variable trust wholesaler, where he managed the sales of variable trust funds and variable annuity partnerships. He also worked in a national sales manager capacity for specialty sales distribution, managing the sales of the variable trust funds available through 401(k)s and managing variable annuity and 401(k) partnerships.
Prior to joining the firm, he worked in several capacities at Fidelity Investments. He received a bachelor's degree in business from Austin College in Texas and an MBA from The University of Dallas and holds FINRA series 6, 7, 24 and 63 licenses.
Registration Links:
CFALA Members: $20.00
Non-members: $40.00
Time: 12:00pm – 1:30pm, lunch and refreshments to be provided.
Location: California Plaza 2
350 S. Grand Ave, ETC Room (Map)
Los Angeles, CA 90071
Payment Information:
Methods of payment accepted: Visa/Mastercard, American Express and Discover. If you prefer to pay by check please register online and select "purchase order" as your payment option and enter your last name as the purchase order number. Mail check to: CFA Society of Los Angeles, 350 S. Grand Ave, Suite 1680, Los Angeles CA 90071.
Credit card payments will not be accepted by phone or email.