Virtual Book Club: 'The Fourth Turning' by Neil Howe and William Strauss
Thursday, 3:00 PM - 4:00 PM
Location:
Zoom Meeting
Time:
3:00PM - 4:00PM

Add to Calendar

10/29/2020 3:00 PM

10/29/2020 4:00 PM

America/Los_Angeles

Virtual Book Club: 'The Fourth Turning' by Neil Howe and William Strauss

Virtual Book Club: 'The Fourth Turning' by Neil Howe and William Strauss

Zoom Meeting

CFALA

info@cfala.org

false

MM/DD/YYYY

Join us for a (virtual) book club discussion!

Using a combination of demographics, history and psychology, demographers Neil Howe and William Strauss theorise 80-100-year generational cycles, which have repeated throughout western and American history. Each 80-100-year cycle can be broken into shorter 20-25 year cycles and there is a repeated sequence of events that tends to take place. The first 20-25 year cycle is a recovery from a period of crisis, whereas the last cycle is the degeneration into the crisis. If the framework holds true, the global economy is in the midst of an extended crisis phase irrespective of the virus. Strong analytical framework to study economics, markets, politics and investments in the 2020s. NB to critique all theories but global debt and interest rate super cycles give some credence to Howe and Strauss'.

Rob Price, CFA will lead a discussion of this fascinating book, highlighting strengths, weaknesses and applications to current events.

Please read the book ahead of the event. At a minimum, read a few articles or listen to a few podcasts to understand the basics of the theory.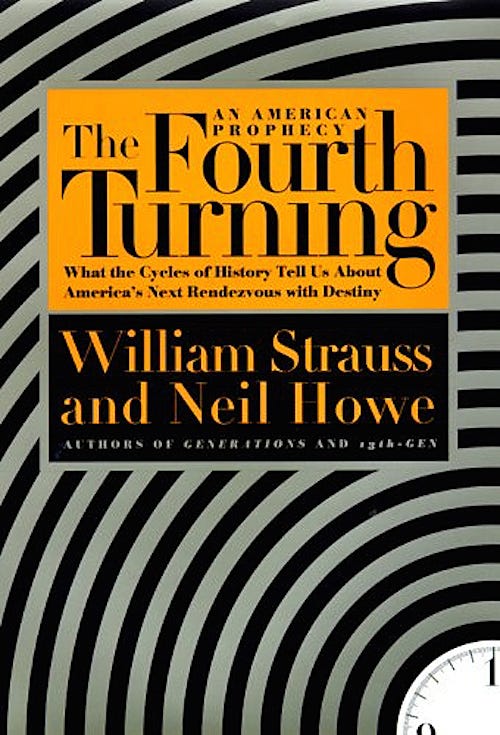 Book Description: William Strauss and Neil Howe will change the way you see the world—and your place in it. With blazing originality, The Fourth Turning illuminates the past, explains the present, and reimagines the future. Most remarkably, it offers an utterly persuasive prophecy about how America's past will predict its future.

Strauss and Howe base this vision on a provocative theory of American history. The authors look back five hundred years and uncover a distinct pattern: Modern history moves in cycles, each one lasting about the length of a long human life, each composed of four eras—or "turnings"—that last about twenty years and that always arrive in the same order. In The Fourth Turning, the authors illustrate these cycles using a brilliant analysis of the post-World War II period.

First comes a High, a period of confident expansion as a new order takes root after the old has been swept away. Next comes an Awakening, a time of spiritual exploration and rebellion against the now-established order. Then comes an Unraveling, an increasingly troubled era in which individualism triumphs over crumbling institutions. Last comes a Crisis—the Fourth Turning—when society passes through a great and perilous gate in history. Together, the four turnings comprise history's seasonal rhythm of growth, maturation, entropy, and rebirth.

The Fourth Turning offers bold predictions about how all of us can prepare, individually and collectively, for America's next rendezvous with destiny.
Registration Fees
Free (Members) | $5 (Non-Members)
Event Chair:
Rob Price, CFA
Community Chair:
Donald Brown, CFA