Book Club: 'A History of the United States in Five Crashes'
Thursday, 11:30 am - 1:30 pm
Location:
CFALA Member Center - Biltmore Court
520 S Grand Ave. Suite 655
Los Angeles, CA 90071
Speaker:
TBD
Time:
11:30AM - 12:00PM: Registration
12:00PM - 12:20PM: Lunch
12:20PM - 1:30PM: Presentation & Book Discussion
Dress:
Business Casual

Add to Calendar

08/15/2019 11:30 AM

08/15/2019 1:30 PM

America/Los_Angeles

Book Club Speaker: Scott nations, Author of 'a history of the united states in five crashes'

Scott Nations, Author of 'A History of the United Sates in Five Crashes'

CFALA Member Center - Biltmore Court 506 S Grand Ave. Los Angeles, CA 90071

CFALA

info@cfala.org

false

MM/DD/YYYY
A Book Club Sponsored Event

Join us for lunch and a discussion on Scott Nations' book "A History of the United States in Five Crashes".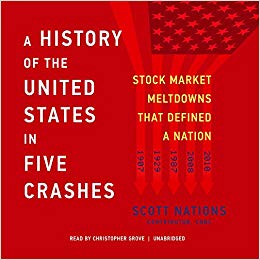 Go on a journey through the five significant stock market crashes in the past century to better understand how they defined the United States financial markets today.

The book dissects--The Panic of 1907: The Knickerbocker Trust failed, after a blatant attempt to manipulate the copper market which led to a disastrous run on the banks; Black Tuesday (1929): The newly created Federal Reserve misguidedly adjusted interest rates, while investment trusts, the darlings of that decade, became the catalyst that burst the bubble leading swiftly to the Great Depression; Black Monday (1987): A new tool called "Portfolio Insurance" perversely led to increased losses, and corporate raiders drove stocks above their intrinsic values; the Great Recession (2008): Widespread mortgage defaults magnified by poorly understood derivatives, catapulted the nation's largest banks and much of the economy into a downward spiral; The Flash Crash (2010): One investment manager, using a dangerous runaway algorithm, reacted to the Greece economic crisis, sending the stock market into an unprecedentedly sudden plunge, with the Dow shed 998.5 points in just minutes.

A History of the United States in Five Crashes compellingly illustrates the connections between these major financial collapses and reveals the solid, clear-cut lessons they offer for preventing the next calamity.
Registration Fees
$10 | $15 (Non-Member)
Registration CLOSED. Walk-Ins Welcome
Payment Information


We accept the following:


If you prefer to pay by check please email info@cfala.org and request to pay by check. Your registration will be completed manually and you will receive an email confirmation.
Mail Check To:
CFA Society of Los Angeles, 520 S. Grand Ave, Suite 655, Los Angeles CA 90071.
*Credit card payments will only be accepted through the secure online registration, and not by phone or email.
Cancellations
Cancellations must be received in writing by 9:00 am the day prior to the event to receive a refund. No phone cancellations are accepted. Please fax to the CFALA office at (213) 613-1233 or e-mail info@cfala.org. Member "no-shows" will be billed the difference between the member fee and the non-member fee for the event which is posted on the CFALA website.
Chair:
Geoff Wainwright, CFA
| | |
| --- | --- |
| | As a participant in the CFA Institute Approved-Provider Program, the CFA Society of Los Angeles has determined that this program qualifies for 1 credit hour. If you are a CFA Institute member, CE credit for your participation in this program will be automatically recorded in your CE Diary. |