Book Club Discussion - Antifragile
Wednesday, 12:00 pm - 1:30 pm
Location:
Biltmore Court
CFALA Member Center
520 S Grand Ave. Suite 655
Los Angeles, CA 90071
Speaker:
None
Time:
12:00PM - 12:30PM: Lunch
12:30PM - 1:30PM: Book Discussion
Dress:
Business Casual

Add to Calendar

03/14/2018 12:00 PM

03/14/2018 1:30 pM

America/Los_Angeles

Book Club Discussion - Antifragile

Book Club Discussion - Antifragile

Biltmore Court CFALA Member Center 520 S Grand Ave. Suite 655 Los Angeles, CA 90071

CFALA

info@cfala.org

false

MM/DD/YYYY
A Book Club sponsored event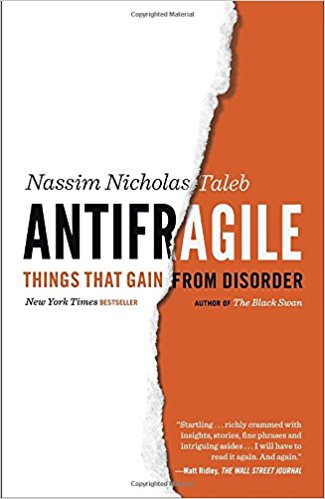 Antifragile—Things That Gain from Disorder, by Nassim Nicholas Taleb. The New York Times book review described this controversial tome "as a kind of sequel or logical follow-on to Mr. Taleb's best-selling 2007 book "The Black Swan" and his earlier book "Fooled by Randomness." In those and other writings he has argued that "Black Swans" — large, improbable and highly consequential events like World War I or the rise of the Internet — are not predictable. Despite human beings' taste for rational patterns of cause and effect, and their eagerness to impose narratives on the world, he observed, it's impossible to calculate the risks of Black Swan events or predict their occurrence. In the world today, he says in "Antifragile,... Mr. Taleb contends that we must learn how to make our public and private lives (our political systems, our social policies, our finances, etc.) not merely less vulnerable to randomness and chaos, but actually "antifragile" — poised to benefit or take advantage of stress… "We have been fragilizing the economy, our health, political life, education, almost everything" by "suppressing randomness and volatility," much the way that "systematically preventing forest fires from taking place 'to be safe' makes the big one much worse." In fact, he says, top-down efforts to eliminate volatility (whether in the form of "neurotically overprotective parents" or the former Fed chairman Alan Greenspan's trying to smooth out economic fluctuations by injecting cheap money into the system) end up making things more fragile, not less. Overtreatment of illness or physical problems, he suggests, can lead to medical error, much the way that American support of dictatorial regimes "for the sake of stability" abroad can lead to "chaos after a revolution."

This is a challenging read to be sure, but it is absolutely timely and offers many gems amidst a broad stroke of philosophy and history . Our book discussion will primarily focus on investment questions: 1) Is the global economy more or less anti-fragile since the Lehman crisis? Anecdotal evidence is not encouraging given a soaring debt burden. 2) What about the banking system? It has deleveraged but there is ever greater consolidation and heightened regulation. 3) In responding to the crisis, the global central banks have amassed a $12 trillion balance sheet. Some $8 trillion in government debt carries negative interest rates. On the face, these interventions are in sharp contradiction to Taleb's anti-fragility thesis. What are the investment implications? What do these developments portend in the way of Black Swans? 4) Taleb advocates asymmetric trading strategies that benefit from volatility. Is this approach less relevant in a "low volatility world"? 5) And of course, your questions and insights!
Registration Fees
$10 | $15 (Non-Member)
Payment Information
We accept the following:

If you prefer to pay by check please register online and select "purchase order" as your payment option and enter your last name as the purchase order number.
Mail check to:
CFA Society of Los Angeles, 520 S. Grand Ave, Suite 655, Los Angeles CA 90071.
*Credit card payments will only be accepted through the secure online registration, and not by phone or email.
Cancellations
Table reservations are non-refundable. Other cancellations must be received in writing by 9:00 am the day prior to the event to receive a refund. No phone cancellations are accepted. Please fax to the CFALA office at (213) 613-1233 or e-mail info@cfala.org. Member "no-shows" will be billed the difference between the member fee and the non-member fee for the event which is posted on the CFALA website.
Chairs:
Don Brown, CFA and Geoff Wainwright, CFA
| | |
| --- | --- |
| | As a participant in the CFA Institute Approved-Provider Program, the CFA Society of Los Angeles has determined that this program qualifies for 1 credit hours. If you are a CFA Institute member, CE credit for your participation in this program will be automatically recorded in your CE Diary. |