Book Club Meeting - A Great Leap Forward?
Wednesday, 6:00 pm - 7:30 pm
Location:
24 Crestwind Dr.
Rancho Palos Verdes, CA 90275
Speakers:
Not Applicable
Time:

6:00 pm - 7:30 pm: Dinner/Discussion

Dress:
Business Casual

Add to Calendar

09/27/2017 6:00 PM

09/27/2017 7:30 pM

America/Los_Angeles

Book Club Meeting: A Great Leap Forward?

Book Club Meeting: A Great Leap Forward?

24 Crestwind Dr, Rancho Palos Verdes, CA 90275

CFALA

info@cfala.org

false

MM/DD/YYYY
A Book Club sponsored event

A Great Leap Forward? Making Sense of China's Cooling Credit Boom, Technological Transformation, High Stakes Rebalancing, Geopolitical Rise & Reserve Currency Dream By John Mauldin and Worth Wray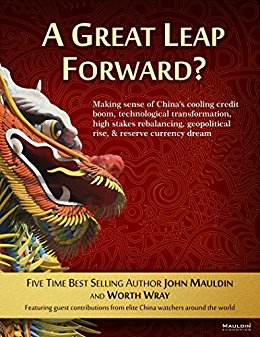 China continues to be the "mystery meat" of the global markets. While all market observers agree that China's ascension is nothing short of an economic miracle, most would also agree that major imbalances lurk just beneath the surface that could have major ripple effects on the global economy and markets. The Chinese government is walking a tight wire as it attempts its high stakes rebalancing. Decades of command and control governance have left China's "old" smokestack economy overbuilt and awash in debt. Beijing hopes rising retail consumption and productivity will usher in a new era of growth—but the devil is in the details. China's reformers face a vast shadow banking system, zombie industries, a "deliquefied" banking system, widespread risks to employment, and even threats to the Communist Party itself. Are we at the tipping point? In 2015, the global markets were roiled by China's unexpected devaluation in its yuan, followed by a sharp spike in Chinese stock market volatility and an exodus of capital. Since then, China has tamped down these fears. Is this a harbinger of greater stability as Chinese government actors learn from Mr. Market, or have deeper problems been masked as the country prepares for the 19th Party Congress this fall? We will learn in the next five years what China's new plan will look like…and whether or not it will work. This book from best-selling author John Mauldin and Worth Wray features an all-star cast of China watchers including Ian Bremmer, Nouriel Roubini, and Michael Pettis and should ignite a lively discussion for CFA Society Los Angeles book club readers!
Authors:
John Mauldin
is the well known founder of Mauldin Economics and has consulted with money managers for over three decades. A recognized investment expert, particularly on the subject of hedge funds, he is a New York Times best selling author whose books include Bull's Eye Investing, Just One Thing, Code Red and Endgame. He is the President of Millennium Wave Advisors and Millennium Wave Securities. With a loyal following numbering over a million, Mauldin is a respected observer of the economy and investment opportunities. He is a regular contributor to publications including The Financial Times as well as a frequent guest on CNBC, Yahoo Tech Ticker and Bloomberg TV.
Worth W. Wray
is the Chief Economist and Global Macro Strategist for STA Wealth Management. Previously, Worth served as the Portfolio Strategist at Salient Partners, a Texas-based investment firm with over $18 billion under management, and as the Chief Strategist at Mauldin Economics. Worth's educational credentials include the Mandarin Chinese Short Term Program at Fudan University in Shanghai, China.
Registration Fees
$10 (Members) | $15 (Non-Members)
Payment Information
We accept the following:

If you prefer to pay by check please register online and select "purchase order" as your payment option and enter your last name as the purchase order number.
Mail check to:
CFA Society of Los Angeles, 520 S. Grand Ave, Suite 655, Los Angeles CA 90071.
*Credit card payments will only be accepted through the secure online registration, and not by phone or email.
Cancellations
Cancellations must be received in writing by 9:00 am the day prior to the event to receive a refund. No phone cancellations are accepted. Please fax to the CFALA office at (213) 613-1233 or e-mail info@cfala.org. Member "no-shows" will be billed the difference between the member fee and the non-member fee for the event which is posted on the CFALA website.
Chair:
Don Brown, CFA and Geoff Wainwright, CFA
| | |
| --- | --- |
| | As a participant in the CFA Institute Approved-Provider Program, the CFA Society of Los Angeles has determined that this program qualifies for 1 credit hours. If you are a CFA Institute member, CE credit for your participation in this program will be automatically recorded in your CE Diary. |