Book Club Meeting - Superforecasting: The Art and Science of Prediction
Thursday, 12:00 pm - 1:30 pm
Location:
Biltmore Court
CFALA Member Center
520 S Grand Ave. Suite 655
Los Angeles, CA 90071
Speaker:
None
Time:
12:00PM - 1:30PM: Book Meeting and Lunch
Dress:
Business Casual

Add to Calendar

10/13/2016 12:00 PM

10/13/2016 1:30 pM

America/Los_Angeles

Book Club Meeting - Superforecasting: The Art and Science of Prediction

"Superforecasting was the second-most recommended book of 2015 by the 50 Bloomberg contributors in economics and finance. Describing a econ/geopolitical forecasting competition that is sure to alter the way that U.S. intelligence agencies make predictions, author and Wharton professor Philip Tetlock explains how to change your thinking to make vastly better forecasts, an ability which is central to success in finance and economics.

Biltmore Court 520 S Grand Ave. Suite 655 Los Angeles, CA 90071

CFALA

info@cfala.org

false

MM/DD/YYYY
A Book Club Sponsored Event
Lunch, salad, and dessert will be catered by
Mendocino Farms
.

The CFA Society Los Angeles Book Club is targeting a 2017 Superforecasting competition among Society members based on questions chosen and structured by our members. The competition would be hosted on the Good Judgment website with CFALA as a Challenge Sponsor.

This meeting will be to explain the current plans and goals, and seek input from attendees on question topic areas and specific questions members would like to see included in the competition.

The book, Superforecasting, details steps that anyone can learn to become a better forecaster. Accurately forecasting economic and financial events and regimes is critical in order to perform well. No matter what aspect of finance and investing you work in, becoming a better forecaster will help you to be a better and more successful financial professional.

Please join us for a brief review of this exceptional book, an explanation of how you can be a founding member of the 2017 CFALA Superforecasting Challenge, and a brief workshop on superforecasting.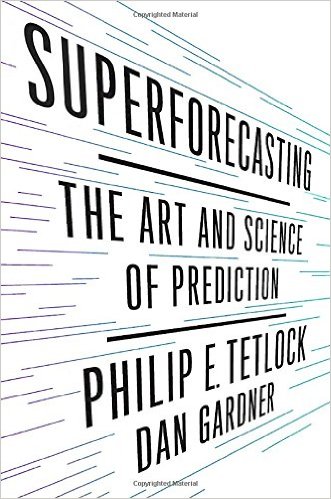 "
Superforecasting: The Art and Science of Prediction
" by authors Philip E. Tetlock and Dan Gardner
A New York Times Bestseller
An Economist Best Book of 2015
"The most important book on decision making since Daniel Kahneman's Thinking, Fast and Slow." —Jason Zweig, The Wall Street Journal
We will discuss creating opportunities for local CFA LA Society members to take advantage of the Superforecasting Good Judgment Open website's (www.gjopen.com) existing tools and how we might use them to structure a local forecasting competition.
The book 'Superforecasting' describes how a geopolitical forecasting competition was organized by the U.S. government, and how a group of informed citizens with the right temperament outperformed the entirety of the U.S. intelligence community consisting of thousands of analysts with access to classified information -- and outperformed significantly. Importantly this group of "superforecasters" significantly improved upon their outperformance in year two of the competition by working as a group. Thus, "superforecasting" can be taught and learned.
A key insight from the book is that good forecasting doesn't require powerful computers or arcane methods. It involves gathering evidence from a variety of sources, thinking probabilistically, working in teams, keeping score, and being willing to admit error and change course.
This meeting is a first step in setting up a local effort for local Society members to network, compete in forecasting, and develop the mental skills to become better forecasters.
Biography
Philip E. Tetlock is the Annenberg University Professor at the University of Pennsylvania and holds appointments in the psychology and political science departments and the Wharton School of Business. He and his wife, Barbara Mellers, are the co-leaders of the Good Judgment Project, a multi-year forecasting study. He is also the author of
Expert Political Judgment
and (with Aaron Belkin)
Counterfactual Thought Experiments in World Politics
.
Dan Gardner is a journalist and the author of
Risk and Future Babble: Why Pundits are Hedgehogs and Foxes Know Best
.
Registration Fees
Free (CFALA Members) | $20 (Non-Members)
Payment Information
We accept the following:

If you prefer to pay by check please register online and select "purchase order" as your payment option and enter your last name as the purchase order number.
Mail check to:
CFA Society of Los Angeles, 520 S. Grand Ave, Suite 655, Los Angeles CA 90071.
*Credit card payments will only be accepted through the secure online registration, and not by phone or email.
Cancellations
Cancellations must be received in writing by 9:00 am the day prior to the event. No phone cancellations are accepted. Please fax to the CFALA office at (213) 613-1233 or e-mail info@cfala.org. Member "no-shows" will be billed the non-member fee ($20) for the event which is posted on the CFALA website.
Chairs:
Don Brown, CFA & Thomas Mahoney, CFA
| | |
| --- | --- |
| | As a participant in the CFA Institute Approved-Provider Program, the CFA Society of Los Angeles has determined that this program qualifies for 1 credit hours. If you are a CFA Institute member, CE credit for your participation in this program will be automatically recorded in your CE Diary. |