Book Club Discussion - The End of Alchemy by Mervyn King
Tuesday, 6:00 pm - 7:30 pm
Location:
Biltmore Court
CFALA Member Center
520 S Grand Ave. Suite 655
Los Angeles, CA 90071
Speaker:
None
Time:
6:00PM - 6:30PM: Networking/Pizza/Wine
6:30PM - 7:30PM: Book Discussion
Dress:
Business Casual

Add to Calendar

09/27/2016 5:30 PM

09/27/2016 7:30 pM

America/Los_Angeles

The End of Alchemy: Money, Banking, and the Future of the Global Economy

"Mervyn King may well have written the most important book to come out of the financial crisis. Agree or disagree, King's visionary ideas deserve the attention of everyone from economics students to heads of state." ?Lawrence H. Summers

Biltmore Court 520 S Grand Ave. Suite 655 Los Angeles, CA 90071

CFALA

info@cfala.org

false

MM/DD/YYYY
A Book Club Sponsored Event
The End of Alchemy: Money, Banking, and the Future of the Global Economy
by author Mervyn King
"Mervyn King may well have written the most important book to come out of the financial crisis. Agree or disagree, King's visionary ideas deserve the attention of everyone from economics students to heads of state." - Lawrence H. Summers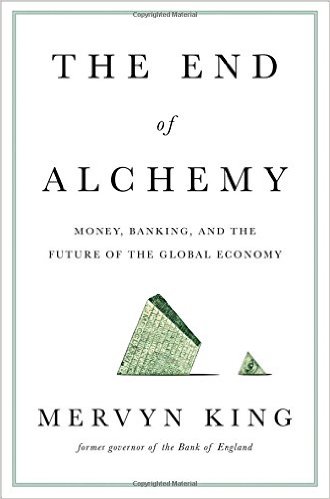 Something is wrong with our banking system. We all sense that, but Mervyn King knows it firsthand; his ten years at the helm of the Bank of England, including at the height of the financial crisis, revealed profound truths about the mechanisms of our capitalist society. In The End of Alchemy he offers us an essential work about the history and future of money and banking, the keys to modern finance.
The Industrial Revolution built the foundation of our modern capitalist age. Yet the flowering of technological innovations during that dynamic period relied on the widespread adoption of two much older ideas: the creation of paper money and the invention of banks that issued credit. We take these systems for granted today, yet at their core both ideas were revolutionary and almost magical. Common paper became as precious as gold, and risky long-term loans were transformed into safe short-term bank deposits. As King argues, this is financial alchemy: the creation of extraordinary financial powers that defy reality and common sense. Faith in these powers has led to huge benefits; the liquidity they create has fueled economic growth for two centuries now. However, they have also produced an unending string of economic disasters, from hyperinflations to banking collapses to the recent global recession and current stagnation.
How do we reconcile the potent strengths of these ideas with their inherent weaknesses? King draws on his unique experience to present fresh interpretations of these economic forces and to point the way forward for the global economy. His bold solutions cut through current overstuffed and needlessly complex legislation to provide a clear path to durable prosperity and the end of overreliance on the alchemy of our financial ancestors.
Biography
Mervyn King served as the governor of the Bank of England from 2003 to 2013. He was appointed Baron King of Lothbury in 2013, a Knight of the Garter in 2014, and is currently a professor at both New York University and the London School of Economics.
Registration Fees
$10 | $15 (Non-Member)
Payment Information
We accept the following:

If you prefer to pay by check please register online and select "purchase order" as your payment option and enter your last name as the purchase order number.
Mail check to:
CFA Society of Los Angeles, 520 S. Grand Ave, Suite 655, Los Angeles CA 90071.
*Credit card payments will only be accepted through the secure online registration, and not by phone or email.
Cancellations
Cancellations must be received in writing by 9:00 am the day prior to the event. No phone cancellations are accepted. Please fax to the CFALA office at (213) 613-1233 or e-mail info@cfala.org. Member "no-shows" will be billed the non-member fee ($15) for the event which is posted on the CFALA website.
Chair:
Don Brown, CFA
| | |
| --- | --- |
| | As a participant in the CFA Institute Approved-Provider Program, the CFA Society of Los Angeles has determined that this program qualifies for 1 credit hours. If you are a CFA Institute member, CE credit for your participation in this program will be automatically recorded in your CE Diary. |