01-08-2015 Actionable Ideas for Combining Active and Passive Management
Thursday, January 8th, 2015
Speaker: David Mazza
Head of Research, SPDR ETFs and SSgA Funds
Chairs: Ryan Buckmaster, CFA and Michael Wu, CFA
A Private Wealth Management sponsored event
With the large percentage of active managers that underperform their benchmarks and the huge popularity of ETFs over the past several years, some investors have been left wondering whether passive management is the future and active management may eventually become extinct. In this presentation, David will discuss rationale for passive management, rationale for active management, and then considerations for combining the two approaches. He will also discuss advanced beta, portfolio implementation, and his outlook on current market conditions.
Speaker Bio: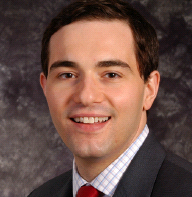 David manages a team of Product and Sales Strategists who generate strategic and tactical investment opportunities. In addition, he develops market outlooks and investment themes that integrate SSgA's thought leadership from across different investment disciplines. He also authors whitepapers on various market and ETF-related topics. Prior to this role, David was a member of the firm's Global Enhanced Equity Group, responsible for research, portfolio management and product positioning across multiple investment strategies.
David received his BA in Political Science and Philosophy from Boston College. He is a member of the Board of Directors at the Notre Dame Education Center in Boston, MA. In addition, he serves on the Lawrence Academy Alumni Council and is a Co-Chairman of the Boston College 1863 Society.

As a participant in the CFA Institute Approved-Provider Program, the
CFA Society of Los Angeles has determined that this program qualifies
for 1 credit hours. If you are a CFA Institute member, CE credit for
your participation in this program will be automatically recorded in your CE Diary.
Registration Links
CFALA Members: $20.00(place cursor on amount for link)
Student Discount: $30.00 (Valid Student ID with current year shown - required at the event)
Non-members: $60.00 (place cursor on amount for link)
Time: 12:00 pm - 1:30 pm, Lunch
Location: Casa Del Mar
1910 Ocean Way
Santa Monica, CA 90405
For directions call hotel: (310) 581-5533 or click link on hotel name above.
Valet parking is $14.00 at Casa Del Mar
Dress Code: Business Casual
Payment Information:
Methods of payment accepted: Visa/Mastercard, American Express and Discover. If you prefer to pay by check please register online and select "purchase order" as your payment option and enter your last name as the purchase order number. Mail check to: CFA Society of Los Angeles, 520 S. Grand Ave, Suite 370, Los Angeles CA 90071.
*Credit card payments will only be accepted through the secure online registration, and not by phone or email.