10-14-2014 Smart Beta: The Second Generation of Index Investing
Tuesday, October 14, 2014
Speaker: Vitali Kalesnik, Ph.D.
Senior Vice President, Head of Equity Research
Chair: Charlotte Chamberlain, Ph.D.
A Portfolio Management Group Sponsored Event
Various Smart Beta strategies have flooded the market, all delivering excess returns over the cap-weighted benchmark. Surprisingly, when these strategies are turned completely "upside-down," inverting the portfolio construction algorithm, outperformance persists. In fact, even a random portfolio generated by Malkiel's blindfolded monkey throwing darts outperforms the market portfolio. How can this be? This presentation examines the drivers of returns for several popular Smart Beta strategies and what to look for when choosing a Smart Beta strategy.
Speaker Bio: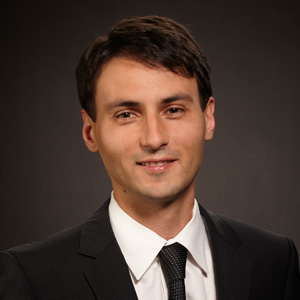 Vitali Kalesnik, Ph.D.
Senior Vice President, Head of Equity Research
Vitali Kalesnik is responsible for quantitative research using advanced econometric tools in asset pricing and active asset allocation. This research is used to enhance Research Affiliates' products—in particular, RAFI Fundamental Index strategies and global tactical asset allocation products. In addition, Vitali is an adjunct professor in business and economics at Chapman University, Orange, California.
Prior to joining Research Affiliates, Vitali conducted research in economics at the University of California, Los Angeles, where he studied international trade and macroeconomics. He also worked as a researcher at the Ministry of Economics in Belarus and at Priorbank. His research papers have been published in such journals as the Financial Analysts Journal, Journal of Portfolio Management, and Journal of Index Investing.
Vitali earned his Ph.D. in economics from the University of California, Los Angeles, where he was a winner of the UCLA Graduate Division Fellowship for 2001–2005. He speaks fluent English, Russian, and French.

As a participant in the CFA Institute Approved-Provider Program, the
CFA Society of Los Angeles has determined that this program qualifies
for 1 credit hours. If you are a CFA Institute member, CE credit for
your participation in this program will be automatically recorded in your CE Diary.
Registration Links:
CFALA Members: $20.00 (place cursor on amount for link)
Student Discount: $30.00 (Valid Student ID required at the event)
Non-members: $50.00 (place cursor on amount for link)
Date: Tuesday, October 14, 2014
Time: 12:00pm – 1:30pm, Lunch
Location: Millennium Biltmore Hotel Los Angeles
506 South Grand Avenue
Los Angeles, CA 90071-2607
Parking: Hotel Valet Parking: $20.00
Self-Parking at Pershing Square (located directly across the street on Olive St.): $10.00
Dress Code: Business Casual
Payment Information:
Methods of payment accepted: Visa/Mastercard, American Express and Discover. If you prefer to pay by check please register online and select "purchase order" as your payment option and enter your last name as the purchase order number. Mail check to: CFA Society of Los Angeles, 520 S. Grand Ave, Suite 370, Los Angeles CA 90071.
*Credit card payments will only be accepted through the secure online registration, and not by phone or email.
CANCELLATIONS
Cancellations must be received in writing by 9:00 am the day prior to the event. No phone cancellations are accepted. Please fax to the CFALA office at (213) 613-1233 or e-mail info@cfala.org. Member "no-shows" will be billed the non-member fee ($50) for the event which is posted on the CFALA website.