09-18-2014 The Reckoning: How Accounting Has Guided Growth Of Nations, And Deceptions Have Led to the Collapse Of Nations
Thursday, September 18, 2014
Speaker:
Dr. Jacob Soll,
Professor of History and Accounting
University of Southern California
Chairs: Larry Brody and Dan Pomerantz, CFA
Advocacy Committee Sponsored Event
"The history of accounting is a story," said Soll, "about the rise and fall of nations. When talking about wealth and poverty—and the survival of companies and governments—accounting plays a major role."
Soll says accounting was seen as not only necessary, but also potentially dangerous; this is why past societies created safeguards such as developing a financially literate public and a tradition of regular audits. "Every member of Dutch society knew how to do a ledger with double-entry accounting, but they also knew its pitfalls and its dangers. It's not enough just to have the books. You need a public and an administrative class that is actively engaged with those books," said Soll.
In the book, Soll, a recipient of a MacArthur "Genius" award in 2011, examines 2,000 years of bookkeeping, inventories and auditing, and shows how accounting or, more specifically, the sense of public accountability that widespread literacy of the tools and techniques of proper accounting brings, influenced the vitality of major nation states.
"What I want people to take away from the book is, 'Wow, here's an industry of capitalism and government in the West that hinges on accounting. I'm going to think about the world in a new way,'" he said. "Every transaction eventually goes through the hands of an accountant, but nobody wants to hear about them or know what they do. That's a willful blindness that's completely self-destructive."
From Dr. Soll to CFALA Members:
This presentation will examine the relationship between good bookkeeping, well-ordered government and capitalism. It will also examine the consequences of false bookkeeping as it applies to businesses and governments. It goes without saying that capitalism relies on double-entry bookkeeping. This is a commonplace of economics. What I will show is that certain cultures manage double-entry bookkeeping better through expansive financial literacy and the prominent role of accountants in society. Fraud once it appears and is perceived signals an ominous outcome.
In particular, Golden Age Holland was the first place to create what I call an accountable society. Not only was accounting celebrated by artists and philosophers; it was also considered central to the education of all citizens. This didn't mean it always functioned. What it shows, though, is that the Dutch knew accounting often failed and they tried to safeguard against accounting failure and fraud. This was central not only in their development of early capitalism, but also in their capacity to reform mismanaged companies and government administration.
I will move forward to contemporary issues and present possible outcomes and implications. Bad accounts could bring down companies, governments and even cause revolutions.
What is the risk from ignoring accounting irregularities? Does your profession accept accounting reports without sufficient question?
*CFALA President Mark Harbor, CFA, CPA will be the discussant of Dr. Soll's presentation
Speaker: Dr. Jacob Soll, Professor of History and Accounting at University of Southern California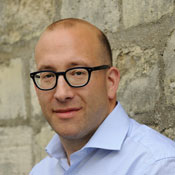 MacArthur Fellow, MacArthur Fellowship, 2012
Guggenheim Fellowship Recipient, John Simon Guggenheim Memorial Foundation Fellow, 2009-2010
Visiting Scholar, Trinity College, Cambridge University, 2009 Fernand Braudel Visiting Professor, European University Institute, Florence, Italy, 2007
National Endowment for the Humanities Fellowship Recipient, Fellow, National Endowment for the Humanities, 2005-2006
http://dornsife.usc.edu/cf/faculty-and-staff/faculty.cfm?pid=1042779
His recent book, "The Reckoning: Financial Accountability and the Rise and Fall of Nations" is a monument about what investors and financial service professionals should know about accounting, financial analysis and risk analysis."

As a participant in the CFA Institute Approved-Provider Program, theCFA Society of Los Angeles has determined that this program qualifies
for 1 credit hours. If you are a CFA Institute member, CE credit for
your participation in this program will be automatically recorded in your CE Diary.
Registration Links:
CFALA Members: $20.00 (place cursor on amount for link)
Student Discount: $30.00 (Valid Student ID required at the event)
Non-members: $50.00 (place cursor on amount for link)
Date: Thursday, September 18th, 2014
Time: 12:00pm – 1:30pm, Lunch
Location: Omni Los Angeles
251 South Olive Street
Los Angeles, CA 90071
For directions call hotel: (213) 617-3300
Event parking at the Omni $12.00
Dress Code: Business Casual
Payment Information:
Methods of payment accepted: Visa/Mastercard, American Express and Discover. If you prefer to pay by check please register online and select "purchase order" as your payment option and enter your last name as the purchase order number. Mail check to: CFA Society of Los Angeles, 520 S. Grand Ave, Suite 370, Los Angeles CA 90071.
*Credit card payments will only be accepted through the secure online registration, and not by phone or email.
CANCELLATIONS
Cancellations must be received in writing by 9:00 am the day prior to the event. No phone cancellations are accepted. Please fax to the CFALA office at (213) 613-1233 or e-mail info@cfala.org. Member "no-shows" will be billed the non-member fee ($50) for the event which is posted on the CFALA website.