October 2013
CFALA e-Newsletter: October 2013
Welcome to the CFALA e-newsletter, a periodic publication with stories about noteworthy events and programs sponsored or hosted by the society, guest articles by members, book reviews, and other items of interest to CFALA members. Click on the headlines below to read the full stories. And if you'd like to contribute a story suggestion or, even better, write an article, we'd love to hear from you. Please email Executive Director Laura Carney at laura@cfala.org.
*Please note that the content of this e-newsletter should not be construed as investment advice, nor do the opinions expressed necessarily reflect the views of CFA Society Los Angeles.
---
In this issue ...
---
CFA Los Angeles Hosts Meeting to Foster Better Relationships with Policymakers
On October 3, 2013, CFA Newsletter conducted a telephone interview with Dan Pomerantz, CFA, a Governor of the CFA Society of Los Angeles and the current Chair of the Advocacy and Ethics Committee. The focus was on an event held August 21, 2013 with Congresswoman Maxine Waters (D-CA43), the ranking Democratic member of the House Financial Services Committee.
Newsletter: Please describe the event with Representative Waters and the motivation behind it?
DP: The CFA Institute is trying to foster better relations with policymakers and regulators that have jurisdiction over the financial services industry. Unfortunately it has been very difficult to engage in Washington because CFA Institute doesn't employ lobbyists or pay for access. The idea came about that we should approach key politicians at the local level, during Congressional recesses via their constituents. That's what we did on August 21.
Newsletter: How did the event unfold?
DP: We held a roundtable discussion for about 20 people at the Intercontinental Hotel in Century City, CA. The attendees included key members of the CFA Society of Los Angeles including actual constituents from the 43rd district, which Rep. Waters represents. We gave her an opportunity to make prepared remarks, went around the room with introductions and then engaged in a dialogue about relevant financial topics. These included regulation, ethics, taxation, market transparency, and investor protections. We certainly didn't agree on everything, but there were many areas of overlap.
Newsletter: What do you think she took away from this?
DP: Our goals included making her aware that CFA Institute and CFA Los Angeles exist, that our members are highly experienced and ethically motivated and that we can be a tremendous resource for her and her staff in the future. The ultimate goal is to have a seat at the table as laws that affect our industry are created. I think her favorite part was probably the introductions. She seemed very interested in who we were, which firms we worked for and what our jobs entailed. This helped put a more personal, constituent face on the CFA organization.
Newsletter: So overall the event was successful?
DP: I believe we achieved our general goals of creating awareness and leaving a positive impression. But more importantly we opened the door to future collaboration with a very influential legislator. Advocacy is a long-term undertaking and there's a lot more to do. Hopefully the broader membership base appreciates our efforts, considers this event as constructive and perhaps even joins us in working on future advocacy projects.

By Marc Weitz, CFA

---
Back to Work: A Candidate's Account of the Value of CFALA Membership
When I enrolled in the USC/CFALA CFA® Review Program as a Level I candidate, I didn't expect that at some point I would be affiliated with a professional society that would play such an important role in helping me define the course of my career. For many CFA charterholders and candidates, getting involved with a local professional society after working in the investment industry for some time is a recommended value-adding activity. To me, joining CFALA proved to be absolutely essential.
A few years ago, when it was time for me to start a family, I decided to be a stay-at-home mother and enjoy the first years of parenting to the fullest. I had long planned to make the best out of the experience and it involved full-time commitment on my part. I gave it my best, and in return I was rewarded with a life-changing experience. Putting off my career aspirations for some time to carry out my responsibilities as a parent was well worth it.
When it was time for me to re-enter the job market, I realized that it was imperative to find an effective but also an engaging transition. Since re-entering the workforce in any industry can be a challenge - and maybe more so in finance - I aimed to get involved with a professional community where my time would be well spent. When I enrolled in the USC/CFALA CFA® Review Program, I had the opportunity to take a glimpse of what CFALA offered to its members. As part of the candidate connection, I got to enjoy membership benefits long before I became a member. After attending several events organized by the different communities of interest within the society, I truly began to appreciate the value of membership in CFALA.
(See the website for information about communities of interest within CFALA).
Initially as a candidate in the Review Program and currently as a Level II candidate re-entering the workforce, CFALA continues to be a valuable resource for me. (See the website for information about membership benefits). Through my membership, I continue to have the opportunity to:
• Learn more about the industry
• Expand my professional network
• Meet remarkable investment professionals, experts and thought leaders
• Get involved as a volunteer member
With so many seasoned professionals as members - over 2000 investment professionals in the Los Angeles area - I have the opportunity to expand my knowledge and engage in conversations that really matter. Most valuable to me are the ones that I have with CFA charterholders in the CFALA community who so generously share experiences and insights that I truly believe will help me not only as I work through the CFA Program but also tremendously in my career progression.
I think highly of CFA Society of Los Angeles and feel privileged to be a volunteering member.
---
CFALA Wins Society Excellence Award
CFA Society Los Angeles (CFALA) has been recognized by CFA Institute, the global association of investment professionals that sets the standard for professional excellence, as the 2013 recipient of the Enablers award – one of the four "E"s (Education, Engagement, Ethics, and Enablers) that define the focus for implementing the institute's strategy.
CFALA was honored for demonstrating exceptional achievement based on successful implementation of governance and volunteer management strategies. CFALA reaches out to potential volunteers, assists them in finding ways to help the society that fit their individual interests, and enables volunteers to create their own communities of interest that expand the society's objectives. CFALA also has streamlined its governance procedures, bringing its staff in house, hiring an executive director and an administrator, and allowing the society's board of governors to operate more strategically and undertake more initiatives.
With only two paid staff positions serving a large local society, a well-managed volunteer program becomes even more important. Monthly recognition, personal outreach, one-on-one support, and annual socials all contribute to emphasizing the significance of volunteering for CFALA.
"CFA Institute has a global network of 139 societies in 60 countries, all of which play an essential role in serving the needs of local investment professionals," noted Emily Dunbar, head, Global Society Relations. "With the Society Excellence Awards program it is our pleasure to recognize the high standard of service, hard work and dedication that each society demonstrates in supporting the CFA Institute mission."
The CFA Institute Society Excellence Awards Program was established in 2006 in order to identify and reward efforts of individual societies or societies in partnership with one another in their operations and the delivery of value to the investment professionals they represent . This year, 59 societies took part in this global program by submitting 66 entries in the various categories.
As a local member society of the CFA Institute, CFALA plays a crucial role in serving members and supporting the CFA Institute mission to lead the investment profession globally by promoting the highest standards of ethics, education, and professional excellence for the ultimate benefit of society.
"We are very proud to be chosen as the winner of the Enablers Award," said Mark Harbour, President of CFALA. "To have the efforts of our staff and volunteer leaders in promoting the highest standards of ethics, education, and professional excellence recognized by CFA Institute is a great honor."
---
The Righteous Mind: Why Good People Are Divided by Politics and Religion
by Jonathan Haidt – A book review
"Politics is the ability to foretell what is going to happen tomorrow, next week, next month and next year...and to have the ability afterwards to explain why it didn't happen." Winston Churchill
Particularly in this season of the US Presidential and Congressional elections, it is interesting to explore the evolution of political opinions and more importantly, how we might position ourselves to lower the barriers to a civil discourse and exchange of ideas with our friends and colleagues who may be of a different political persuasion. This book provides some handy ideas toward that end. While it is written in an easy to read fashion, it does contain a substantial body of reference material which includes an in depth review of human evolution of thinking; thus, be prepared to spend some time reading it.
Jonathan Haidt (pronounced "height") as of July 1st of this year is a faculty member at NYU – Stern. Formerly he was a professor in the Department of Psychology at the University of Virginia. His historical research focused on the moral foundations of politics and ways to transcend the culture wars by using recent discoveries in moral psychology to foster more civil discourse. You can review his website for more background and research.
His research suggests that righteousness (arising from an outraged sense of justice, morality, or fair play) is linked to judgmentalism especially in contrast with the beliefs of others. Further, it is a normal human condition that is a feature of our evolutionary design that has allowed us to form cooperative groups, tribes, and nations without the glue of kinship. The book breaks into three subparts.
Part 1 of the book explains research that supports the concept that in questions of moral framing, intuitions precede strategic reasoning. Moral intuitions arise automatically and almost instantly before reasoning can occur. He uses the metaphor of elephant and rider to describe intuition and strategic reasoning respectively. The rider's job is to serve the elephant which by its size drives the mental process – mostly outside of our awareness. Viewed in this light, moral reasoning is concerned more about furthering our social agendas than figuring out the truth. It is used to justify our own actions and defend the teams we belong to.
Viewed in this way, in order to change someone's mind, you have to speak to the elephant first. When you contradict their intuitions, they will manufacture arguments that refute your ideas.
Part 2 expands the definition of morality to include categories beyond harm and fairness. The metaphor used in this section is that our minds are like a tongue with six taste receptors. Certain cultures represent a cuisine that by its nature activates just a couple (i.e., care and fairness) while others activate a broader palate of taste receptors (loyalty, authority, sanctity, and liberty).
With two colleagues, Jonathan created a Moral Foundations Questionnaire which tested the relative importance of the five of the above six categories (liberty gets added later). The data collected from responders to this questionnaire showed that along a spectrum of political left to right (from very liberal to very conservative), people in the liberal category were substantially more influenced by care and fairness than loyalty, authority or sanctity. The shorthand version is that liberals have a two-foundation morality and conservatives a five-foundation morality framework. Extensive testing (more than 130,000) confirms the results as did testing by neurologists for brain responses.
The frameworks are captured nicely in a couple of graphs as illustrated below: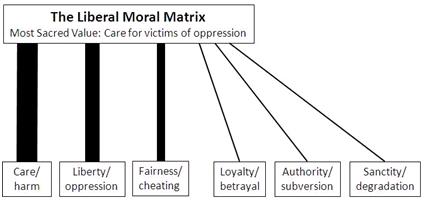 In some cases, the liberal perspective goes beyond equality of rights to pursue equality of outcomes; a state that is not viable in a capitalist system. Thus, another perspective is valuable in pursuing societal change. Interestingly, due to their overweight of care and fairness, liberals may have more difficulty understanding how loyalty, authority and sanctity have anything to do with morality and it is therefore more difficult for them to understand conservatives as a group.
Part 3 describes how morality binds and blinds. The metaphor used in this section is that humans are 90% chimp and 10% bee. Our human nature simultaneously has both components at work. The individual competitiveness is the chimp. We have learned to do so well at this that we sometimes fool ourselves. The smaller percentage is the aspect when we shut down our petty selves and become like cells in a larger body (i.e., the bee hive). We seem to bind ourselves in teams or groups with shared moral narratives which blind us to the narratives of other groups.
While there is a more extensive exploration of how morality is influenced by religion, ultimately the implication is how it impacts the formation and relationships of groups. The author's definition of moral systems nicely summarizes it as "interlocking sets of values, virtues, norms, practices, identities, institutions, technologies, and evolved psychological mechanisms that work together to suppress or regulate self-interest and make cooperative societies possible."
The concept of social capital is reviewed as valuable to supporting the social ties among individuals and engaging appropriate norms of reciprocity and trustworthiness in order to enhance the overall group. The benefit of this perspective is that it embraces the contribution of value that relationships make to groups.
Taking this concept a step further, the idea of moral capital emerges. A specific definition is "the degree to which a community possesses interlocking sets of values, virtues, norms, practices, identities, institutions, and technologies that enable the community to suppress or regulate selfishness and make cooperation possible".
Perhaps the key concept is that when we try to change or improve a group or society, we have to consider the effects that changes will have on the state of moral capital. "Anything that binds people together into dense networks of trust makes people less selfish." Ultimately, the conclusion is that groups/cultures are better positioned to flourish when they include elements of all of the categories of moral framework (i.e., cooperation without kinship).
Contrasting views are healthy when they are recognized and used for group direction. On one side -
Governments can and should restrain corporate superorganisms (i.e., corporations should not be allowed to turn governments into their "lackeys")
Some problems really can be solved by regulation (i.e., the removal of lead from gasoline and the beneficial environmental results)
On the other hand –
Markets are miraculous (allocation of resources efficiently for the benefit of all)
You can't help the bees by destroying the hive (a totally borderless world with no dividers to groups or societies would create chaos)
The application of the ideas presented in the book begin with the suggestion of starting a dialogue by attempting to "follow the sacredness" of that person toward their particular group affiliation. Specifically, for a conservative to forge an effective dialogue with a liberal, knowing that their intuitive elephant is focused on care and fairness, the conservative should be open to those aspects and begin with at least one friendly interaction in that arena. Conversely, a liberal should be aware of the importance of loyalty, authority and sanctity to the moral decisions of a conservative and be open to the role they play as well as beginning the dialogue with an interaction in one of those areas.
For a more extensive exposé on initiatives to build stronger relationships and potential collaboration politically, the author references a website created to support the growth of moral capital – www.CivilPolitics.org.
By Mark Harbour, CFA, CIMA®, a financial advisor with major financial services firm. He is an officer of the CFA Society of Los Angeles and national chair of the Wealth Management Committee of the Investment Management Consultants Association (IMCA). Email address is harboal@ca.rr.com.
---
Ethical Decision-Making Webinar
The CFA Institute is currently offering a free, interactive, case-based ethical decision-making webinar. Attendance qualifies for 1.0 CE/SER credit, which is automatically added to your CE tracking record. The next session is on 10/29. Read more...
---
Start-Up City: Hollywood Has Embraced the High-Tech Scene
The Rise of the Creative Class' Richard Florida examines 2011 Dow Jones data on Southern California venture capital investment at the zip code level in this August TheAtlanticCities.com article. Read more...
---
Southern California Poverty Grows Despite Economy Rebound
As a counterpoint -- or perhaps demographically-based complement -- to Florida's article, Brenda Gazzar provides a view of the local post-crisis economy in her Los Angeles Daily News article on the growth of poverty. Gazzar examines 2012 county-level data from the recently released U.S. Census Bureau's American Community Survey. Read more...
---
A Voice in the Room and a Seat at the Table
In this speech to the CFA Society Leadership Conference, CFA Institute Board of Governors member Robert Jenkins calls for investment managers to have a bolder voice in the current reshaping of public policy. Jenkins also makes some insightful comments on the distinction between investment banking and investment management. Read more...
---
Financial Literacy, Beyond the Classroom
Richard Thaler discusses the continuing effort to promote better personal financial outcomes through financial education in his recent New York Times article. Thaler summarizes a meta-analysis of studies in this area and introduces the idea of just-in-time financial education. Read more...
---