10-02-2013 Origami Idea Challenge presented by Origami Capital Partners
Wednesday, October 2nd, 2013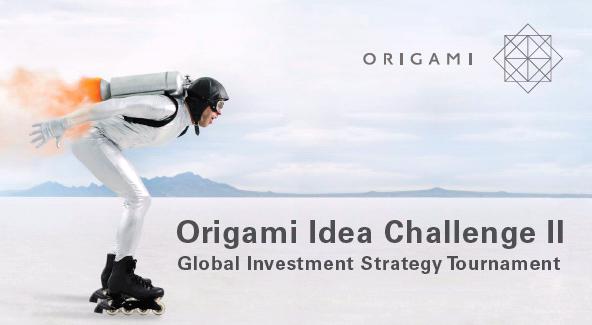 Speakers:
Thomas Elden, CFA
Jeff Young
Chair: David Bradley, CFA, CAIA
Career Development Committee
Join Origami Capital Partners for drinks, appetizers and networking at the Glass Lounge in the Intercontinental Hotel in Century City. The Chicago-based private equity fund will discuss the Origami Idea Challenge and how to develop an innovative idea. In addition to awarding $130,000 in cash prizes, Origami is offering the chance to turn your big ideas into a reality and take them forward as a part of the Origami team.
Learn more about the Origami Idea Challenge at www.OrigamiChallenge.com. Judges include luminary investors Ralph Wanger, founder & CEO of the Columbia Acorn Funds for 40 years, and Richard Elden, founder of Grosvenor Capital Management, a $20 billion investment firm. Participate by submitting a brief written summary of your idea, individually or as part of team, by December 4.
Speaker Bios:
Thomas Elden founded Origami Capital Partners in 2008. He was also a founding member of Lakeview Opportunity Fund, a fund of activist funds, and Lakeview Capital Management, LLC, a Chicago-based investment firm. He serves on the investment committee of the Irving Harris Foundation, and has been managing multi-manager hedge fund portfolios since 1993. Prior to forming Lakeview in 1999, Mr. Elden was a partner with Grosvenor Capital Management, L.P., a $24 billion fund of hedge funds, which he joined in 1993. Previously, he held positions at SEI Corporation and Sterling Capital Ltd., a leveraged buyout firm. Mr. Elden is a graduate of the University of Chicago (AB) and the Wharton School of the University of Pennsylvania (MBA). Mr. Elden has been a Chartered Financial Analyst charter holder since 1995, and is a member of the CFA Society of Chicago.
Jeff Young joined Origami in 2009. His principal expertise is in completing complex transactions and building businesses. He founded, and later sold, Young & Associates, a consulting firm that provided infrastructure development services to ATT, Verizon, Sprint, Nextel, PCS, PrimeCo, MetroPCS and other wireless carriers. In January 2001, Mr. Young sold his 80-person company to O2 Wireless Solutions (NASDAQ: OTWO). Subsequently, he used his real estate expertise to make opportunistic investments in distressed real estate, selling most of his holdings in January of 2006. Mr. Young received a BA from the University of California, Berkeley in 1989 and a JD from Santa Clara University School of Law in 1993 and is admitted in California and Nevada.

Agenda:
5:30pm - 6:30pm, cocktails (one hosted drink ticket per person) and appetizers
6:30pm - 7:30pm, presentation
Registration Links:
CFALA Members: $0.00 (place cursor on amount for link)
Non-members: $0.00 (place cursor on amount for link)
CFALA Members and non-members are both hosted for this event
Location: Intercontinental Hotel, Century City
Ballroom
2151 Avenue of Stars
Los Angeles, California 90067

Parking: Valet $12
Dress Code: Business Casual

This event is sponsored by the Origami Idea Challenge